Besides monthly meetings which include interesting programs and presentations, our branch holds several annual events:
________________________________________________________________________
Light Supper – Get together
This year, our first meeting will be on September 12th, 2019, where we'll be celebrating the 100th Anniversary of the Suffragette movement and the 19th. Amendment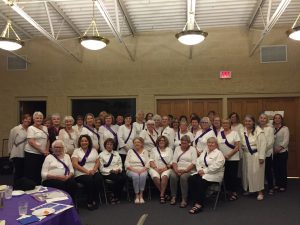 'Lawmakers took to the floor of the House of Representatives on Tuesday to commemorate       the 100th anniversary of action on the constitutional amendment granting women the right to vote. The House passed what would become the 19th Amendment to the Constitution by a vote of 304-90 on May 21, 1919.'
     Attendees are encouraged to wear white for a group photo opportunity
Traditionally, September , mid-month,  is usually our first meeting of the new year and it    includes a light supper of ingredients donated by our members ( appetizers, salads, entrée or dessert items), usually beginning at 6:30 p.m. and held at the Presbyterian Church of Orland Park, 13401 S. Wolf Road, Orland Park, IL.  Come and see what we are about.
Email : jgraz@att.net to let her know you're coming so we can have an accurate head count
This is a meeting you won't want to miss, as you'll learn about our upcoming programs  for the year and get to meet our members.
Thursday,  October 3rd  7 PM

Presbyterian Church in Orland Park

13401 Wolf Road Orland Park

Presentation by Meredith Morris.

Meredith will give a power point presentation on Altzheimers disease and dementia:  how to recognize this issue, the different types there are, as well as how those issues are dealt with both medically and personally. She is the community relations director at an Anthem Memory facility in Oak Lawn. There will be time for discussion on this topic as well.

 

Holiday Auction

Planned date: November 8th. All Saints Lutheran Church, Orland Park, IL

This basket  auction is the branch's major fundraiser of the year. Donations go to the AAUW Funds for National Scholarships and to the MVCC Foundation to assist women over age 40 to attend college locally (see the scholarship page).  Bidding begins promptly at 7 pm.  Come ahead of time to view the new and gently used auction items. There is plenty to eat and plenty to drink!  Bring friends and make a night of it!

December  Holiday Party

December 5th (tentative date) at the home of Patty Watne                           14055 Springview Lane, Orland Park, IL

Starting at 7 pm, we gather with appetizers and beverages donated by the attendees, and entertainment offered by our Program chairpersons, Anita and Janice in the form of what tends be a very competitive game of holiday jeapordy

February winter meeting on a Saturday                                                                ( no need to drive at night on icy roads in the dead of winter)

February 6th Noon Luncheon    Xando cafe 8729 95th Street Hickory Hills  Price to be determined by what you order off the menu. We will meet in a daylight get together to enjoy lunch and have fun playing a challenging game of trivia with our trivia mistress, Donna K.

Legal Aid fundraiser- March Meeting- Ethnic Dinner

March 5 6:30PM Ethnic Dinner $35.00 cost

Presbyterian Church in Orland Park

13401 Wolf Road Orland Park

Wear green!! We are doing an Irish themed dinner this year for  St Patrick's Day.  

Presentation by Christie Sever who will speak on her research of Ireland during the 18th century and the culture crushing Penal Wars. She is the author of the book-Sound the Warning.

"Sound the Warning" is not only a story about survival in an oppressed country, but it is also a story of how family loyalty and a little bit of Irish magic can overcome many problems.

                                           
  April Meeting Presentation 
April 2nd 7:00PM Easter Island                                                                                                    
Presbyterian Church in Orland Park
13401 Wolf Road Orland Park
     Our world travelers Jan Musil, Lenette Staudinger, and Janis Westlund will be presenting their recent experiences on a Road Scholar educational visit to Easter Island. Discussed will be historical information, flora and other biological anomalies, culture, visual images, and current highlights of their trip.
May meeting: Honoree Banquet
Starting at 6:30 pm,  likely at Ashford House
Previously:
___________________________________________________________________________
 Math/Science Conference
For the 12th year, 5th. Grade girls from the local junior high schools are invited to  attend a conference on STEM careers, with a headline speaker and numerous breakout groups discussion such topics as Engineering, Pharmacy, Computer and Graphic design, Accountancy and many more paths to a STEM related future for our attendees. Organized by Mary Schoenheider , financed by the Chemical Industry Council of Illinois and the Illinois Chemical Education Foundation, and sponsored by MVCC, this event has been a success thanks to all the contributors and our many volunteers.______________________________________________________________________
__________________________________________________________________
You Be the Chemist Challenge
POAB will host its fifth You Be The Chemist Challenge in March at Moraine Valley Community College. The Challenge is designed to educate middle school students about important chemistry concepts, historical discoveries and laboratory safety. The Chemical Education Foundation creates the study materials and develops the questions for the event. Chicago Drug & Chemical Association provides the funding for supplies and prizes. POAB members are the volunteers who run the event.  Information on how to participate will be available through middle school Science teachers.
We need about 15 adult volunteers to make the Challenge run smoothly. Report time is 4:30pm on March 5. This is a great community outreach event.  Please contact Mary Schoenheider to volunteer. You can email her at mathkatt@sbcglobal.net or call her at 815-723-8819.
__________________________________________________________________________
Equal Pay Day
In 2019, on April 10th (we've lost some ground on this issue- last year it was on April 4th !),     we'll be working with Moraine Valley Community College to present information on the issue of pay equality and to distribute  handouts and PayDay candy bars to promote community college student's awareness of the need to improve awareness abut the issue.